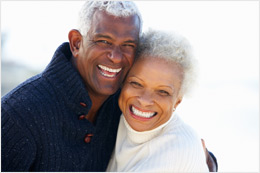 LOW RISK
Safe Environment
Maria lives at home with Ben. They travel together most places, and he drives her to and from her regular day program activities where she is supported safely by program staff and volunteers.
Needs: None – but this is the perfect time for Maria and Ben to create a plan in case needs change. Wandering can still occur here (even for people in a long-term care facility or at a day program), so it's important to be prepared for a person with dementia progressing to a different risk type at any moment.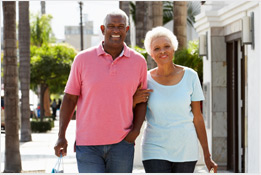 RISK TYPE 1
Found safe/Post-wandering
Maria and Ben went out to the local shopping mall, agreeing to spend some time browsing on their own then meeting at the mall's information desk after 30 minutes.
When Ben arrived at the information desk, he noticed that Maria wasn't there. 10 more minutes passed with no sign of her, and Ben started to worry. He notified security, who helped him look for Maria. They eventually found her inside a store with her coffee, chatting with the cashier. Maria explained that she had gotten disoriented on the way back to the information desk, came in the store to ask for help, and ended up chatting without realizing how much time had passed.
Needs: Strategies that can be used at this time include MedicAlert or a cell phone.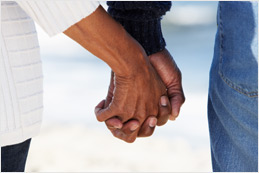 RISK TYPE 2
Talk of leaving/Anxious
Ben notices that Maria seems to be increasingly agitated during the day, especially in the evening (known as the "sundowning period"). It's difficult for her to stay engaged at home, and repeatedly talks about wanting to leave and "go home" even though she's in their house. Ben does his best to help minimize her anxiety, but he worries about her leaving the home without him.
Needs: Strategies that can be used at this time include door sensors/alarms or video surveillance.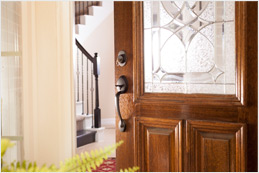 RISK TYPE 3
Missing/Wandering
Maria woke up in the middle of the night, believing that she was nearly late to work and had to hurry to leave – but she had been retired for 2 years. Maria went out into the cool and rainy fall night without a proper coat and shoes, managing to slip out the door before Ben woke up.
Ben rose a short while later, panicking once he realized Maria wasn't in bed. He searched the home for her, and once he realized she was gone, called 911 for help.
Needs: Strategies that can be used at this time include tracking devices and first responders.
Learn About Products